Meditations for Holy Week: Dying and Rising with Christ
Archimandrite Vassilios Papavassiliou
MOBI (for Kindle), EPUB (for Nook, iBooks, Kobo), and PDF files

Product Description
By Archimandrite Vassilios Papavassiliou
Archimandrite Vassilios brings his liturgical and devotional insights and warm, accessible style to bear on the services of Holy Week, helping the reader enter fully into this most rich and intense period of the Christian year.
About the Author: Vassilios Papavassiliou is an Orthodox Christian living in the Czech Republic. He was born in London in 1977 and holds degrees in pastoral and social theology, classics, and Byzantine music. He is the author of Ancient Faith Publishing's Meditation Series (Meditations for Advent, Meditations for Great Lent, Meditations for Holy Week, Meditations for Pascha, and Meditations for the Twelve Great Feasts) and Thirty Steps to Heaven: The Ladder of Divine Ascent for All Walks of Life. He is also the editor of the Ancient Faith Prayer Book.
Also available in paperback. $12.95
Read a sample chapter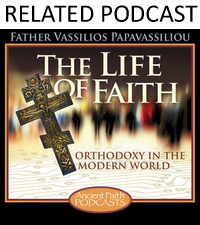 Archimandrite Vassilios Papavassiliou
MOBI (for Kindle), EPUB (for Nook, iBooks, Kobo), and PDF files
Product Reviews
Write Review
Holy Week Review

Posted by Warren Bensinger on Apr 10th 2017

This is my first ebook from OCeBooks and I'm enjoying it very much. It's just what I need to complete my readings for Holy Week. I've just got started but it seems to be easy to understand. I usually get printed books but I wanted this right away. I'm sure glad they had this for me to use.