The Mystery of Art: Becoming an Artist in the Image of God
MOBI (for Kindle), EPUB (for Nook, iBooks, Kobo), and PDF files

Product Description
By Jonathan Jackson
Emmy Award-winning actor and musician Jonathan Jackson explores the profound implications of human creativity in the image of God, along with the process of becoming an artist (of any sort) dedicated to practicing his or her art from the context of a deep relationship with God. The true Christian artist is not necessarily one who treats religious themes, but one who creates through the power of the Holy Spirit to the glory of God.
About the Author
Jonathan Jackson began his career in Hollywood over twenty years ago on the soap opera General Hospital. His heart-wrenching performances helped win him five Emmy Awards. Jonathan has also performed in many feature films, including The Deep End of the Ocean, Tuck Everlasting, and Insomnia. His work has taken him to many places around the world, including Ireland, Italy, Romania, and Canada.
Jonathan is currently one of the stars of the ABC primetime drama, Nashville, a show centered on the inner workings of the Nashville music scene. Jonathan plays Avery Barkley, an up-and-coming singer/songwriter trying to find his way in Music City.
Along with acting, Jonathan is also the lead singer of the band Enation and the author of Book of Solace and Madness, which was published in 2012. Jonathan resides in Nashville, Tennessee, where he loves spending time with his wife, Elisa, and their three children.
For more, visit www.JonathanJackson.com.
Also available in paperback. $16.95
Endorsements
It will surprise some who know Jonathan Jackson only by his acting and his music that he is a man in whom the spirit of ancient Christianity dwells. He is a film star, yes, but also a mystic, a thinker, and a prophet. We should be thankful he brings all of himself to this vision of the artist inhabited by God.
—Stephen Mansfield, New York Times bestselling author
With uncommon attention to the matter at hand—our matter, our lives apprehended as an ongoing encounter with the Mystery of persons in the image of God—Jonathan Jackson brings into harmony the wisdom of the Fathers and the insights of great artists, past and present. The result is a compelling articulation of how the very shaping of our lives is best understood as the most precious and most efficacious of arts.
—Scott Cairns, Author of Compass of Affection and Idiot Psalms
That fine actor and, I am happy to say, my good friend, Jonathan Jackson, has written a book that is a profound meditation on the relationship of the art created by us limited human beings to the infinite Author of all beauty. I hope everyone who reads this book will find in it a source of meditation on the presence of God that can be found in the work of those who seek to add to the sum of beauty in our lives.
—Msgr. Jim Lisante, Author of The Power of One, Host of Personally Speaking and Close Encounter
There have been many books written on the nexus of Christian faith and the arts. I'm very happy to see that Jonathan's Christ-centered offering is original and set apart from the others. The Mystery of Art has earned a place on my shelf next to the best on the subject.
—Charlie Peacock, Composer and music producer
With the lyrical immediacy that narrates his own path as a Christian and an artist, Jonathan Jackson draws on both his own experience and the richness of the theological tradition of the Orthodox Church to present not only intelligent thinking on aesthetics nor his contemplations on spiritual matters, but a fresh and genuine spiritual path for all artists and indeed for all persons. A delight to read, this book is not merely written—it sings.
—Fr. Andrew Stephen Damick, Author of Orthodoxy and Heterodoxy and An Introduction to God
It is a delight to see Jonathan Jackson's book on Christianity and art being published by Ancient Faith. Not only does it address a question of perennial and—in our times especially—pressing interest, but does so with remarkable clarity and grace. Jonathan is a well known actor, musician, and poet, and this inspired effort to bring the insights of his Orthodox Christian faith to all forms of artistic creativity can only be welcomed as an exciting event in the intellectual history of the modern Church.
—Fr. John Strickland, Author of The Making of Holy Russia
I was inspired by The Mystery of Art. Jonathan Jackson's approach to the role of an artist is holistic and challenging. He portrays the artist as a coworker with God, fashioned in His image. Throughout the book, Jonathan encourages us not only to uplift the culture, but also suffer for its renewal, with humility and love. As an artist, I was moved to contemplate the prayerful nature of each moment of creation.
—Michael W. Smith, Singer/Songwriter
Read an excerpt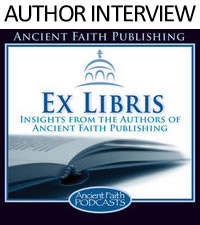 MOBI (for Kindle), EPUB (for Nook, iBooks, Kobo), and PDF files